Our Story
About Kaasiḏa
Kaasiḏa stands as a sustainable and conscious brand, partnering with female artisans to craft beautiful and one-of-a-kind hand-embroidered clothing for women. Melding India's rich textile heritage and intricate embroidery techniques with contemporary fashion, Kaasida's mission is to preserve traditional handicrafts while empowering female artisans. The brand's commitment to sustainability is reflected in its use of natural fabrics, promotion of fashion circularity and zero waste practices, incorporation of compostable packaging, and dedication to enhancing transparency in the production process.
Background
Kaasiḏa takes its name from the Persian/Hindi term 'kashidakari,' meaning embroidery. Kaasiḏa was born out of our deep love for Chikankari, a unique embroidery technique that was made popular in India between the 15 and 16th century. However, if some sources are to be believed early origins of Chikankari can be traced back to the 3rd century BC. For the last two centuries, Chikankari has been practiced exclusively in the North Indian city of Lucknow - Founder, Akanksha's hometown. 
Akanksha's love for Chikankari accompanied her when she moved to Australia in 2016, leading to the inception of Kaasiḏa. As she delved deeper into the world of fashion and fabrics, Akanksha realised that Kaasiḏa would embody sustainability and ethics as much as it would showcase Chikankari.
Embodying art and mindfulness, Kaasiḏa strives to create timeless and unique hand embroidered clothing pieces that are elegant, effortless, and enduring, reflecting its commitment to sustainability and ethics.
The people and places that make your clothes
The journey to your wardrobe
Sustainability and beyond
Use of certified organic fabric

Our embroidered dresses and tops are made with 100% natural fabrics, including those certified by Global Organic Textile Standard, ensuring high quality and eco-friendliness.
Small-scale production

We produce our garments in small quantities to minimise waste from overproduction. Our raw materials are also only ordered to meet the current manufacturing needs.
Acknowledging the makers

We acknowledge Chikankari artisans of India as the makers of our garments. To help you know more about the makers of your garments, we turn the spotlight on them every now and again on our website, blogs and social platforms. 
Ethical process

Kaasiḏa's garments are ethically made at a SEDEX-audited small manufacturer, ensuring healthy working condition and fair pay for the workers.
Zero waste designs

Our designs are engineered to minimise waste. Any leftover fabric is repurposed to create beautiful accessories.
Eco friendly packaging

Our hangtags and labels are made with biodegradable materials. Additionally, every order is shipped in compostable packaging that completely breaks down in the environment.
Preserving heritage craft

Kaasiḏa's indi dresses and tops feature Chikankari, a unique embroidery technique originating from the Indian state of Uttar Pradesh. Our mission is to preserve the traditional handicraft. To ensure the authenticity of our work, we carry out our embroidery in Uttar Pradesh, adhering to the Geographical Indication standards of Chikankari under India's Intellectual Property Rights law.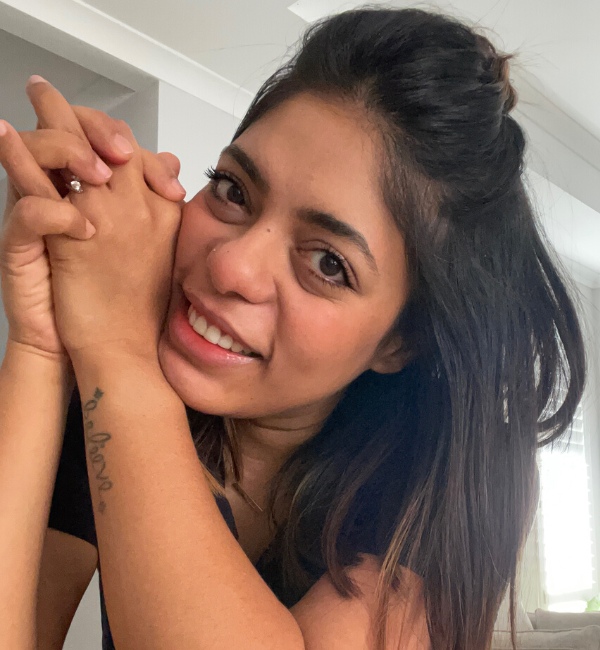 Meet the founder
Born and raised in India, Akanksha moved to Australia in 2016, living in Perth with her husband and two fur buddies.
Akanksha has a marketing background of over nine years, but she found her true passion in fashion and Chikankari, ultimately leading her to start, Kaasiḏa.
Akanksha believes that every individual is born with a unique purpose. With Kaasiḏa, Akanksha found hers.
Her favourite quote is by Morgan Harper Nichols, "How liberating it is to pursue wholeness instead of perfection", which serves as a guiding principle in her life.